AIM Ltd
Design and development of a brand new website. Design of an exhibition stand and photography to complete both.
Services used
Collective members involved
The Brief
AIM Limited came to us with an out of date, static and non-mobile friendly website. They didn't need a massive or sudden boost in the marketing activity, but it was definitely time to upgrade to help them further their business goals. AIM had a fresh logo to work with, a little photography and the content was to be mostly the same, just a little revised and brought up to date.
The Process
We set to work with the usual sitemap and content plans/hierarchy and then unleashed Paul on the creative. Paul's great with the creative because he's not been tainted by the code and lets me (Rob) worry about how to make it work. Paul set about using the hexagon shape of the AIM logo to break out of the normal website style and used pin lines to imply the pinpoint accuracy of their specialty engineering.
The development of this website was pretty tricky, (who does hexagons!?) but totally worth it given the end results. It pushed what we had done with SVG's and image masks, forcing even Internet Explorer 11 to behave how we wanted it to. The site was built with our usual combination of Umbraco and our own responsive framework. We love using Umbraco because it allows us to design the website editors experience as much as it does the end users. Umbraco is also ridiculously fast at this level and allows us all the flexibility we need.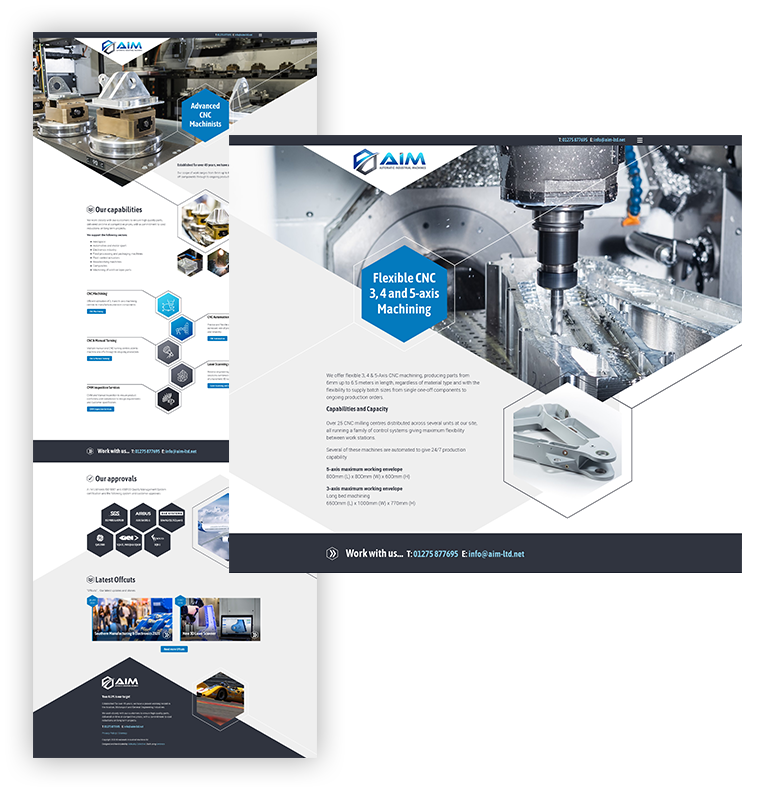 Examples of the AIM website design
Photography
Part way through this project we realised the photography wasn't quite hitting the spot so we brought Mike onboard to solve that problem. Knowing the gaps we needed to fill, and briefed directly by the client to best capture what they do, Mike spent a day on site capturing exactly what we all needed.
Exhibition Stand
The website launch was to roughly coincide with AIM attending a trade show so they also needed a stand designed, Paul has plenty of experience in the exhibition industry and he'd already worked the creative for the website so all the pieces just fell together. We grabbed the stand specs and more of Mikes awesome photography and wrapped up that segment of the project pretty effortlessly.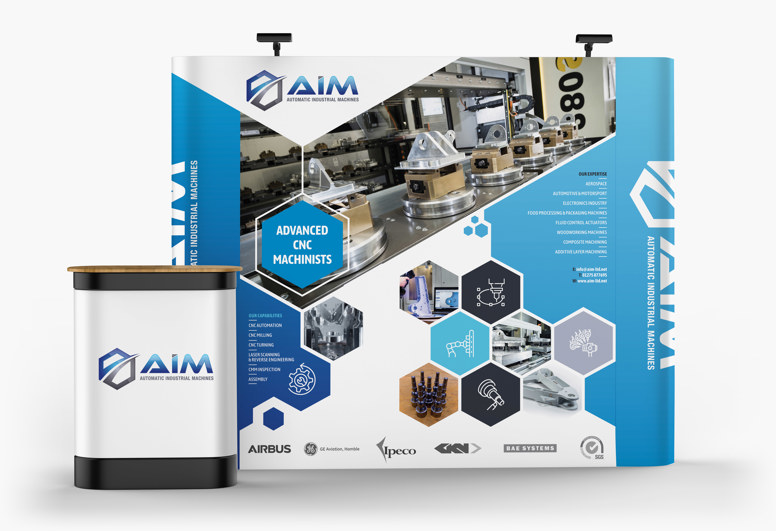 Mock up of the AIM exhibition pop up stand.
The Outcome
The website was launched in time for the tradeshow, the stand was printed and looked great, and AIM could confidently give out business cards & handouts knowing that potential clients could see all their skills and abilities on their new website.