BikeStyle
A new website designed to increase footfall into an existing bricks and mortar store and awareness of product ranges.
In-store
sales steadily increased with brand awareness.
Workshop
bookings increased to an all time high.
Services used
Collective members involved
The Brief
BikeStyle came to us with a very out of date, non-mobile friendly website that they had no access to and were unable to update. So, the brief was pretty simple, grab the logo, brand colours, look and feel from the shop and start fresh. The goal was to get more people into the physical store, using elements of eCommerce but with no actual online sales. Phil wanted to keep it local and face to face.
The Process
This was a pretty natural and fun process. The Collective founder, Rob Mayes, is an enthusiastic mountain biker so this was a great combination of two passions. We started with the usual basics, mapping out preferred user journeys and wireframing, with a simple goal in mind, get people in store. We quickly narrowed down two user priorities, see if the item they want is in store or get their bike serviced.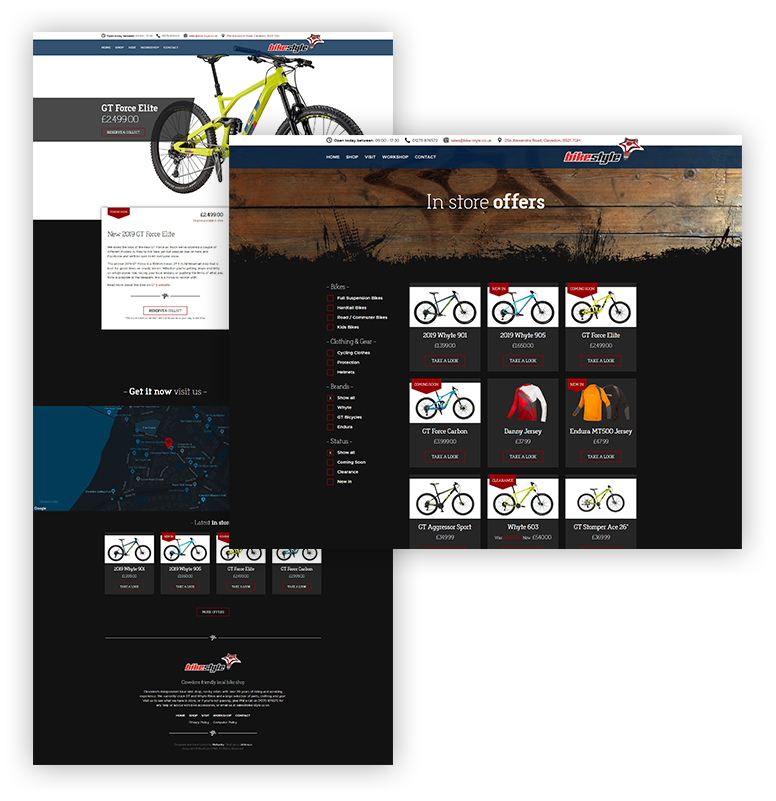 Examples of the Bike Style website design
The Outcome
We didn't see any instant miraculous crowds knocking on the door after launch day but we weren't going for that, steady growth over time is safest and manageable and that's what happened after this website went live. More people started arriving from further afield. Calls came in from even further asking if BikeStyle would take payment over the phone and ship across country. The workshop kept getting busier and website traffic kept increasing.
BikeStyle want the friendly local bike shop vibe and the website expanded their reach.
Ongoing Support
With BikeStyle, we didn't hand over the website and leave it there. We regularly work with BikeStyle updating content and product images. Switching banners and leading imagery to match the new season and continuous stream of new products in the mountain biking industry.
We also keep an eye on Google Analytics and Search Console to ensure BikeStyle stays up the rankings for local searches and help out with Social Media marketing when there's something exciting to shout about.