Greek Island Retreats
Redesign and development of an existing Wordpress website into a scalable Umbraco website ready for expansion.
Bookings
immediately increased on launch day
Page load
times halved vs previous website
Services used
Collective members involved
The Brief
To redesign and develop the Greek Island Retreats website, to allow easier content and property management, increase online presence and bookings. With a long-term goal to reduce reliance on third party suppliers and systems.
The Process
We started with the property pages, the key selling area. We spent a lot of time researching and understanding exactly what users would want to see when they book a villa, including anything and everything we could think of. We then compressed it back down to a more functional & manageable quantity and arranged it all in importance.
We then started thinking about how the properties fit into the rest of the website, what else might be needed to support them and the user experience as a whole. While doing that we started to think about how best to manage all this content, how to arrange it in Umbraco so that it is easily editable and scalable.
Once all that was out of the way we broke into the fun part, the design!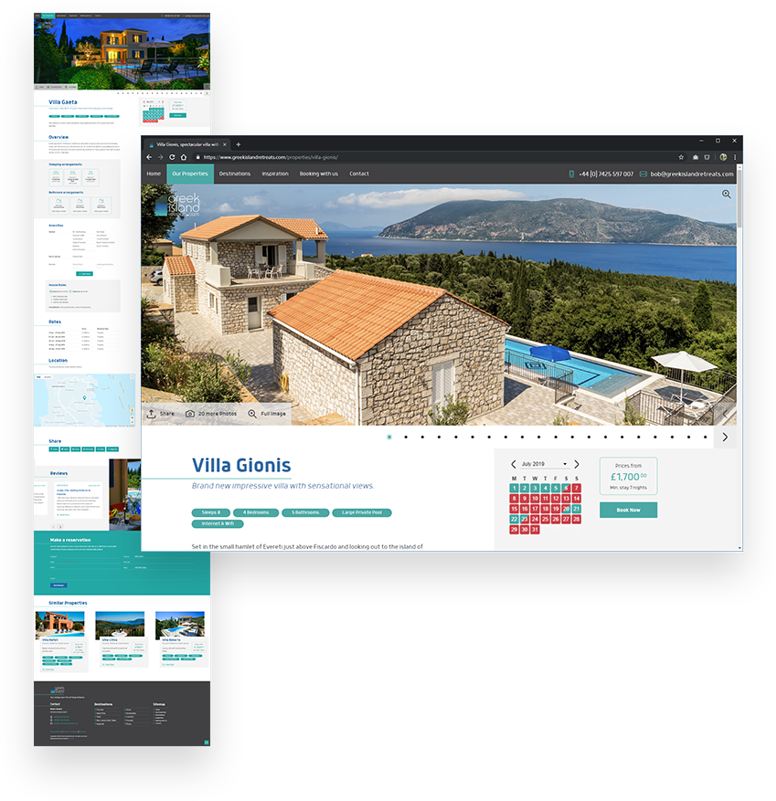 Examples of the Greek Island Retreats website design
The Outcome
We completed a reasonably soft launch of the new website, no launch campaign or party poppers, so we were pleasantly surprised when the first bookings started landing within a few hours of the switch. This quickly became an immediately noticeable increase in bookings and leads through the website. Exactly what we had intended but way better than we'd estimated.
Beyond the front-end, the client has been able to efficiently amend and add properties with minimal assistance from us.
Mission accomplished!